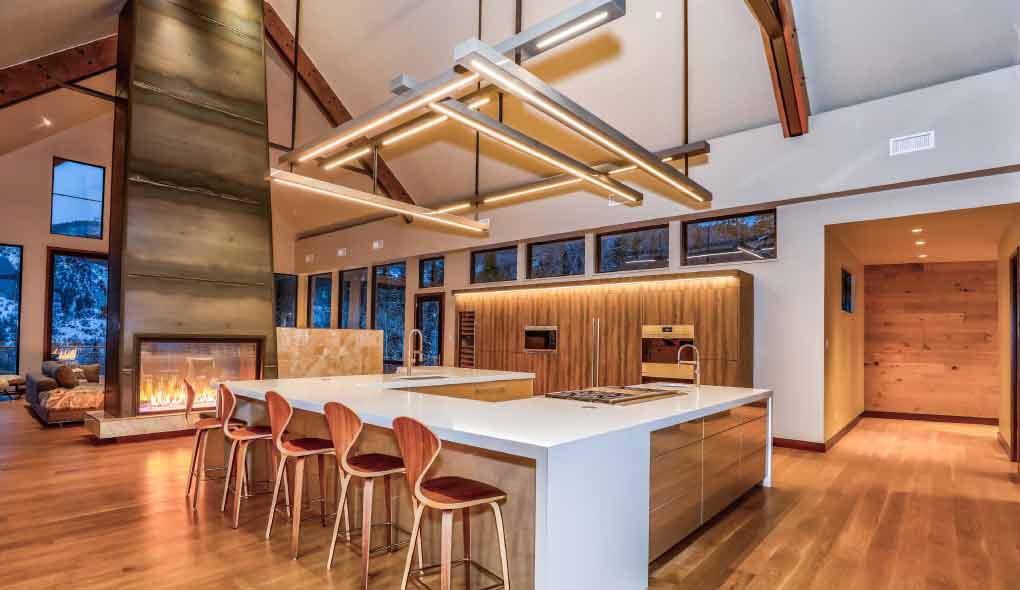 Winter is in full swing, and while we could certainly go for a beach vacation, we also want to cozy up by the fire in this impressive ski chalet. The home is located in Steamboat Springs, Colorado, a top-notch ski town known for epic tree skiing, amazing hot springs, and for a record of producing a high number of winter Olympic athletes.
About five miles from the ski resort, this five-bedroom, five-and-a-half-bath gem is called Moonlight Run. Forget your tired mountain clichés of antler chandeliers and taxidermy, this contemporary house shows what a modern ski home can look like.
The open-concept living area boasts 30-foot vaulted ceilings which provide an airy feel and unobstructed views of Steamboat Ski area. A towering, two-sided, angled fireplace takes center stage—when you're not looking at the panorama—providing a sophisticated yet comfortable place to relax after a day on the slopes.
The 5,700-square-foot property features energy-efficient construction, a three-car garage, a second-story deck for indoor/outdoor living, and a large laundry room. Bathrooms are spacious with wood accents, and the bedrooms all include giant windows to take advantage of the snowy forest views.
Located in Alpine Mountain Ranch and Club, the house also provides access to 1.5 miles of Yampa River fly fishing, 900 acres of wildlife preserve, equestrian facilities, National Forest access, concierge services, an owners cabin, and the opportunity to join the ski-in/ski-out Alpine Mountain Summit Club.
Of course, we might just lounge by the fire all day. If that sounds like a plan for you, 33825 Meadow Creek Drive is on the market now for $4,495,000.