Born and raised in Steamboat Springs, Jamie Curcio, 36, has climbed the local construction ladder, so to speak, to emerge as one of town's top project managers — one who brings a worldwide perspective to his work.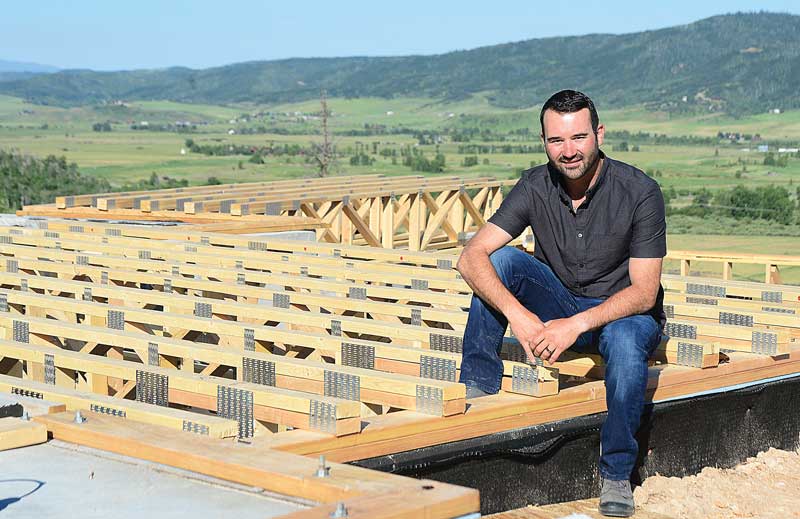 After graduating from Colorado State University with a degree in construction management, Curcio took a job with Haselden Construction for a project in Aurora on the University of Colorado Hospital before transferring to Steamboat from 2007 to 2010 as project engineer for Haselden's contract to build One Steamboat Place. After that he went global, travelling around the world off and on for about five years — including several years working for a mineral exploration company in Guyana, South America. "I'd work in six-week stints," he says, "which gave me the chance to travel all over."
During that time, he volunteered for Sea and Sun Ministries in the Philippines; for Mother Teresa's Missions of Charity in Calcutta, India; and for a nonprofit in Uganda called SOUL (Supporting Opportunities for Ugandans to Learn), which he continued to support by hosting annual New Year's Eve fundraisers. "We'd head back there every year to volunteer, and then do fundraising efforts here," he says. "And the Missions of Charity program was super cool as well — it's where Mother Teresa lived and worked every day. It was incredibly humbling."
When his wife, Lauren, was offered a teaching job in Steamboat, he returned in 2014, where he served as a project manager for HLCC Construction's Deer Park Road office building; and from 2016 to 2017 in the same capacity for Haselden's construction of UCHealth/Yampa Valley Medical Center's new Jan Bishop Cancer Center. He now serves as construction and development manager for Corporex Companies' Alpine Mountain Ranch & Club, where he's overseeing three market homes in design, two being built and "a number of other concept projects" for the luxury residential development.
A former competitive snowboarder for the Steamboat Springs Winter Sports Club, he also still finds time to give back as a volunteer coach for the club, as well as serving on the construction board of directors for STARS.
"In my opinion he's one of the more successful young professionals in the community," says Bob Dapper, director of development and marketing for Alpine Mountain Ranch & Club. "He is a true believer in Steamboat and gives of himself tirelessly. He's become an integral part of our community." It's that community that Curcio holds dear. "Obviously, your home is close to your heart, and that's how I feel about Steamboat," he says. "We came back here because it fits our lifestyle as snowboarders, mountain bikers and campers, but we also have family here and great friends."
And, of course, he loves his community as dearly as Mother Teresa does hers. "It's very easy to become involved in the community here," he says. "You get involved with whatever you want to — Young Bloods Collective, Routt County Riders, the Sustainability Council…the list goes on and on. It's hard to make time for them all."