ALPINE ENCLAVE
A sanctuary within a wildlife preserve.
"Designed with the intention of cultivating a lifestyle opportunity that maximizes time spent with family and friends, for generations."
– Bill Butler, Developer
OUR STORY
Designed to offer families an opportunity to create a place of peace, that maximizes time spent together for generations, Alpine Mountain Ranch & Club, a 1,216-acre residential development in Steamboat Springs, Colorado, is pleased to announce its newest residential offering, Alpine Enclave. Nestled within a picturesque, 900-acre wildlife preserve, Alpine Enclave is truly a 'sanctuary' within a preserve. It offers the opportunity to acquire a family enclave, located only minutes to downtown Steamboat Springs and the ski area, yet that provides the exclusivity, privacy and amenities living at Alpine Mountain Ranch & Club affords.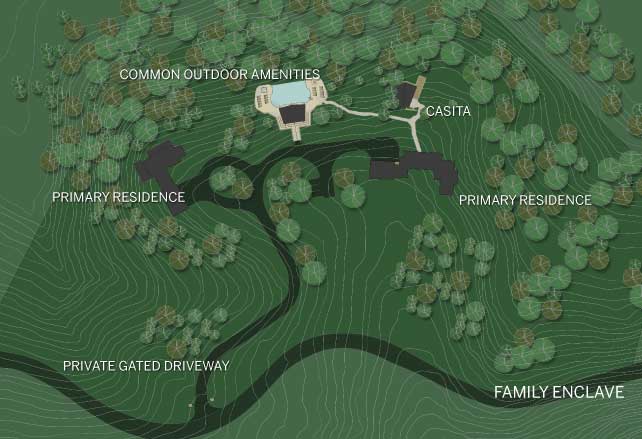 ALPINE ENCLAVES HOMESITES
Alpine Enclave building envelopes house up to two primary residences. While architecturally designed and landscaped to sit at comfortably-separate distances from one another, enclave properties enjoy the exclusive, shared benefit of being accessed by private, gated driveways, and are united by luxurious, common amenities.
ALPINE ENCLAVE PROMISE
Just as the intent of creating Alpine Enclave, is to preserve your family's legacy for generations, so is its promise to ensure the value of your investment.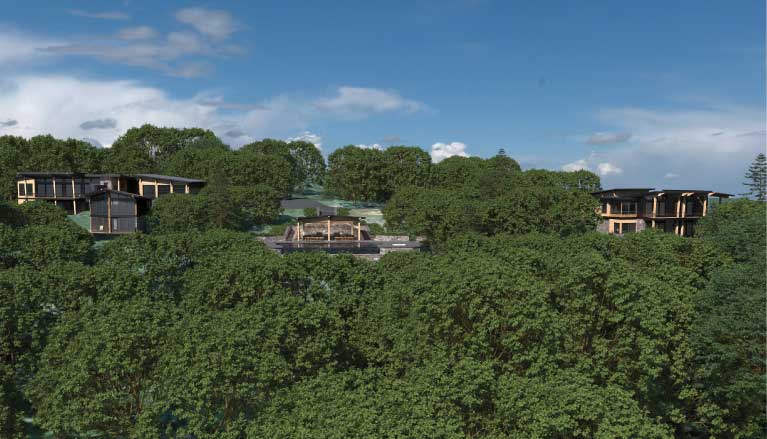 VALUABLE ACREAGE
Alpine Enclave building envelopes offer the opportunity to build up to two primary residences. Typically, this concept would require ownership of 70+ acres of land, per Routt County zoning requirements. However, since Alpine Enclave is located within the pre-zoned, Alpine Mountain Ranch & Club wildlife preserve, individuals may build without the need to pre-purchase excessive acreage.
INFRASTRUCTURE
Building adjoining family retreats often requires significant amounts of necessary, but costly, infrastructure. At Alpine Enclave, primary infrastructure including roads, water and utilities have already been completed. This means, it is possible to begin building your dream enclave right away.
DESIGN AND BUILDING SUPPORT
Alpine Mountain Ranch & Club is committed to helping clients design and build their Alpine Enclave family retreat, by offering an extensive menu of on-site building services. Optional construction services include: assistance with design team selection and contract negotiation (architects, engineers, interior designers), navigating permitting requirements, and oversight and project management on owners' behalf.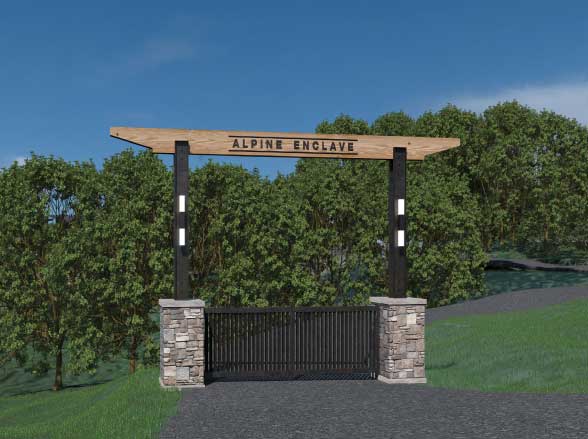 • Accessed by private, gated driveway
• Communal outdoor amenities
• No construction obligation timelines- build when you are ready
• Partially wooded homesites with 360' views
• Exclusive offering- only two Alpine Enclave homesites available